The link has been emailed to people on your list.
You can close this window by clicking "ok" below. From there, you can continue to view this artist, or leave the page.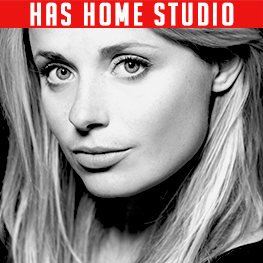 Extremely Commercial Down to Earth Actress. From Young and Lively to Smooth and Warm. 18-35
About Victoria
Despite having a home studio Victoria is also happy to travel to a Studio if needed. Victoria bridges the gap between upbeat voice in her 20's and informative voice in her 30's. You may recognise Victoria as 'PC Vicky Hilton' in the television series 'Doctors'.
Victoria's Credits
Midsomer Murders
Jonathan Creek
The Vice
The Affair of the Necklace
The Queen's Nose
Your filters will appear in here. To remove a filter, click the 'x'
London, RP ('Received Pronunciation'), Straight
Commercial Showreel 16 - 25
London, RP ('Received Pronunciation'), Straight
Commercial Showreel 25 - 35
RP ('Received Pronunciation'), Straight
Documentary, Smooth, Heartfelt, Honest
RP ('Received Pronunciation')
Commercial, Light, Bright, Fresh
Commercial, Bright, Friendly, Happy, Soft
RP ('Received Pronunciation')
Commercial, Soft, Young, Light, Conversational
RP ('Received Pronunciation')
Promo, Engaging, Warm, Narrative
RP ('Received Pronunciation'), Straight
Promo, Engaging, Serious, Smooth
RP ('Received Pronunciation'), Straight
Promo, High, Fun, Energetic, Kids, Young
London, RP ('Received Pronunciation')
RP ('Received Pronunciation'), Straight
Promo, High, Fun, Energetic, Kids, Young
London, RP ('Received Pronunciation')
RP ('Received Pronunciation'), Straight
Game, Character, Princess, Soft, Teenager
RP ('Received Pronunciation'), Straight
Commercial, Natural, Young, Upbeat
London, RP ('Received Pronunciation'), Straight
Commercial, Young, Conversational, Straight
London, RP ('Received Pronunciation')
Commercial, Natural, Relaxed, Straight
London, RP ('Received Pronunciation')
Commercial, Friendly, Informative, Soft
Commercial, Straight, Informative, Conversational
London, RP ('Received Pronunciation'), Straight
RP ('Received Pronunciation')
Commercial, Straight, Friendly, Warm
RP ('Received Pronunciation'), Straight
Commercial, Conversational, Excited, Young
London, RP ('Received Pronunciation')
Commercial, Sensual, Smooth, Intimate
RP ('Received Pronunciation'), Straight
Commercial, Upbeat, Friendly
RP ('Received Pronunciation'), Straight
Commercial, Young, Fun, Funky, Upbeat
RP ('Received Pronunciation'), Straight
Commercial, Conversational, Informative, Bright, Cheerful, Confident
RP ('Received Pronunciation')
Commercial, Soft, Poem, Singing, Smooth
RP ('Received Pronunciation'), Straight
Commercial, Fast, Conversational, Tired, PA
RP ('Received Pronunciation'), Straight
Commercial, Smooth, Light, Young
RP ('Received Pronunciation'), Straight
Commercial, Bright, Soft, Geniune, Familiar
Commercial, Upbeat, Smooth, 30, Warm
RP ('Received Pronunciation'), Straight
Commercial, Young, Informative
Commercial, Young, Fan, Excited, Upset
Commercial, Endline, Friendly, 20s
RP ('Received Pronunciation'), Straight
Corporate, Natural, Informative, Friendly
RP ('Received Pronunciation'), Straight
Commercial, Young, Chatty, Warm
London, RP ('Received Pronunciation')
Commercial, Young, Bright, Informative
London, RP ('Received Pronunciation'), Straight
Commercial, Reassuring, Informative, Smooth
RP ('Received Pronunciation')
Commercial, Soft, Relaxed, Warm
Commercial, Young, Informative, Friendly
RP ('Received Pronunciation')
Commercial, Charity, Narration, Conversational, Warm
Promo, Film, Excited, Young, Light
Commercial, Friendly, Informative
RP ('Received Pronunciation'), Straight
Animation, Friendly, Helpful, Calm
Animation, Girl, Excited, Energetic, High Pitched
Commercial, Happy, Bright, Enthusiastic
RP ('Received Pronunciation')
Garnier Pure Roll On Legal
RP ('Received Pronunciation'), Straight
L'Oreal False Lash Flutter
Commercial, Soft, Dreamy, Smooth
RP ('Received Pronunciation'), Straight

Commercials

Acting

Promos

Animations