The link has been emailed to people on your list.
You can close this window by clicking "ok" below. From there, you can continue to view this artist, or leave the page.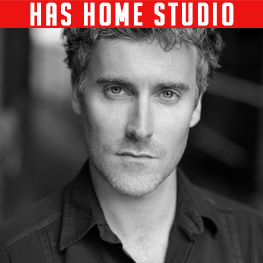 Rich, Luxurious Resonance with Friendly, Highly Commercial Tones 25 - 45
About Tom
Tom is part of the comedy threesome 'The Grandees' who had a very successful run at the 2013 Edinburgh Fringe Festival with their show 'Wrong Side of the Door'.
Tom's Credits
Beauty and the Beast
Breathe
Ready Player One
TV
Rebellion
Collateral
Your filters will appear in here. To remove a filter, click the 'x'
Commercial, Upbeat, Conversational, Versatile
RP ('Received Pronunciation')
Showreel, Character, Comedy
American, Camp, Irish, RP ('Received Pronunciation')
Documentary: Surgeons - At the Edge of Life
Documentary, Dramatic, Powerful, Serious
Northern, RP ('Received Pronunciation')
Promo, Energeitc, Upbeat, Bright
RP ('Received Pronunciation')
Commercial, Bright, Light, Warm
RP ('Received Pronunciation')
Commercial, Conversational, Bright, Upbeat, Natural
RP ('Received Pronunciation')
Commercial, Cool, Calm, Natural
RP ('Received Pronunciation')
Commerical, Car, Smooth, Deep, Trustworthy
RP ('Received Pronunciation')
Commercial, Versatile, Impressions, Excitable
RP ('Received Pronunciation')
Promo, Deep, Cool, Gravitas
Promo, Deep, Dark, Gravelly
Commercial, Bright, Relaxed, Natural, Warm
Commercial, Straight, Rich, Bright
RP ('Received Pronunciation')
Commercial, Rich, Resonant, Deep, Sexy, Authoritative
RP ('Received Pronunciation')
Corporate, Serious, Informative, Calm
RP ('Received Pronunciation')
Corporate, Serious, Considered, Authoritative
RP ('Received Pronunciation')
Corporate, Natural, Warm, Conversational
Louis Theroux Extreme Love
Promo, Heartfelt, Soothing,Smooth
Promo, Cool, Upbeat, Energetic, Engaging
Promo, Soft, Smooth, Friendly, Honest, Relaxed
Impression, Comedy, Husky, Conversational
RP ('Received Pronunciation')
Commercial, Cool, Deep, Resonance, Smooth, Rich
Commercial, Sexy, Cool, Gravitas, Sexy, Authoritative
Pathe, RP ('Received Pronunciation')
Sexy, Love, Smooth, Deep, Authoritative
Football Manager London Cockney
Conversational Smooth Friendly
Smooth RP Educated Narration
RP ('Received Pronunciation')
RP ('Received Pronunciation')
Upbeat Energy Selly Football
Character, Natural, Conversational, Interview, Relaxed
RP ('Received Pronunciation')
Commercial, Bright, Rich, Genuine, Honest
Commercial, Bright, Friendly, Warm

Promos

Commercials