The link has been emailed to people on your list.
You can close this window by clicking "ok" below. From there, you can continue to view this artist, or leave the page.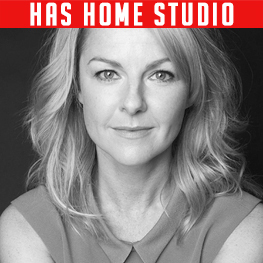 Multi-Talented, with a Huge Range of Characters & Accents. 4 - 40
About Sarah
As it can sometimes take a bit of time to obtain Child Licences, why not book Sarah instead. She is fantastic at Boy and Girl reads. You may recognise Sarah as 'Trish Colingwood' in 'The Job Lot' or as 'Stevie' in 'Miranda"
Sarah's Credits
Miranda
The Queens Corgi (Animation)
The Job Lot
How Not to Live Your Life
Quantum of Solace
Leap Year
Your filters will appear in here. To remove a filter, click the 'x'
RP ('Received Pronunciation'), Straight, Various
Accent & Character Showreel
Showreel, Quirky, Versatile
Comedy, Character, Quirky, Versatile
Documentary - Child Soldiers
Documentary, Serious, Engaging, Smooth
Promo, Child, Serious, Authoritative
Character, Conversational, Fast, Confident
Commercial, Midrange, Informative, Endline
Commercial, Natural, Smooth
Commercial, Comedy, Conversational
Commercial, Comedy, Hyper, Upbeat, Conversational
Commercial, Smooth, Soft, Informative
Commercial, Conversational, Friendly
Commercial, Seductive, Dreamy, Smooth
Commercial, Conversational, Coy, Flirtacious
Commercial, Loud, Upbeat, Shouting
Commercial, Upbeat, Authoritative
Commercial, Silly, Conversational, Comedy
Promo, Child, Boy, Excited
Fireman Sam Italian Woman
Animation, Conversational, Friendly
Commercial, Bright, Reassuring, Friendly, Genuine
Commercial, Bright, Reassuring, Friendly, Genuine
Commercial, Bright, Upbeat, Reassuring, Refreshing
Commercial, Gentle, Natural, Soft, Light
Commercial, Gentle, Natural, Soft, Light
Commercial, Upbeat, Happy, Bright
Commercial, Familiar, Genuine, Natural
Commercial, Familiar, Genuine, Natural
Commercial, Bright, Upbeat, Perky, Rassuring
Commercial, Smooth, Relaxed, Soothing, Trustworthy
Commercial, Conversational, Natural, Familiar, Genuine
Commercial, Upbeat, Excited, Endline
Character, Posh, Conversational, Cat
RP ('Received Pronunciation')
Character, Child, Upbeat, Happy, Boy
Character, Child, Upbeat, Unicorn
Commercial, Monologue, Chatty, Comedy
Commercial, Natural, Friendly, Light
Character, Child, Upbeat, Vulture
Liverpool, North West, Scouse
Commercial, Upbeat, Conversational, Hard Sell
Commercial, Friendly, Informative
Commercial, Conversational, Child, Annoying
Commercial, Natural, Warm, Friendly
Commercial, Friendly, Upbeat, Informative
Character, Child, Shy, Quiet, Sweet
Character, Conversational, Irritating, Annoyed
Animation, Loud, Brash, Child
Character, Cool, Comedy, Bored
Character, Conversational, Thoughtful, Inquisitive
Character, Annoyed, Conversational
Liverpool, North West, Scouse
Character, Comedy, Shouting, Excited, Enthusiastic
Audio Book, Narration, Character, Excited, Young
Acting, Comedy, Conversational, Quirky

Animations

Acting