The link has been emailed to people on your list.
You can close this window by clicking "ok" below. From there, you can continue to view this artist, or leave the page.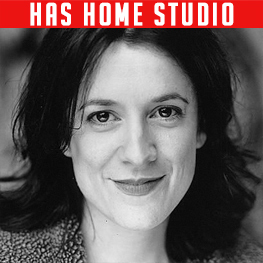 From Smooth and Sensual to Witty and Wild
About Raquel
Raquel was born in Fleet, Hampshire. You may recognise Raquel as 'Mel' in 'Lead Balloon' or as 'Jo Porter' in 'Party Animals'.
Raquel's Credits
Downton Abbey
Doctor Who
Land Girls
Moving Wallpaper
Lead Ballon
Teachers
Your filters will appear in here. To remove a filter, click the 'x'
Audio Book, Narration, Soft, Anxious, Acting
Commercial, Bright, Calm, Soft
Commercial, Smooth, Rich, Friendly
Commercial, Straight, Smooth, Soft
RP ('Received Pronunciation')
Commercial, Soft, Dreamy, Reassuring
Acting, Natural, Conversational
Audio Book, Acting, Posh, Conversational
Pathe, RP ('Received Pronunciation')
Commercial, Informational, Spanish
Commercial, Cool, Sexy, Smooth, Engaging
Fleet, Hampshire, Straight
Commercial, Soft, Sensual, Relaxing
Olay Total Effects Superdrug
Commercial, Conversational, Natural

Commercials