The link has been emailed to people on your list.
You can close this window by clicking "ok" below. From there, you can continue to view this artist, or leave the page.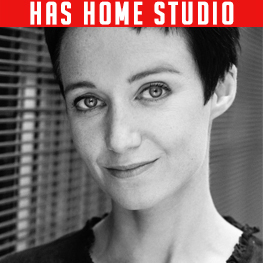 Bright, Lively and Sexy, from Rich and Smooth to Sharp Pathe. 20-40
About Polly
Polly is an experienced TV and stage actress, she lives close to town so she's great for last minute jobs.
Polly's Credits
Muscle
Gentleman Jack
EastEnders
Shakespeare and Hathaway
Pride and Prejudice
Yes Prime Minister
Your filters will appear in here. To remove a filter, click the 'x'
RP ('Received Pronunciation'), Straight
RP ('Received Pronunciation'), Straight
Character, Commercial, Comedy, Dry, Silly, Conversational
American, Australian, London, Northern, RP ('Received Pronunciation')
Commercial, Warm, Friendly, Uplifting
Poem, Young, Spoken, Playful
RP ('Received Pronunciation')
Commercial, Character, Everyday Woman, Excited
RP ('Received Pronunciation')
Documentary, Warm, Earnest, Honest, Genuine, Engaging
Philadelphia Deliciously Whipped
Commercial, Smooth, Smiling, Carefree
RP ('Received Pronunciation')
Commercial, Warm, Reassuring, Friendly
Commercial, Deep, Smooth, Rich, Soothing
Commercial, Slow, Smooth, Relaxed, Rich, Epic
Commercial, Deep, Relaxing, Reassuring, Warm
Commercial, Warm, Friendly, Bright, Conversational
Commercial, Bright, Cheerful, Genuine
Commercial, Refreshing, Clear, Informative, Upbeat
Commercial, Smooth, Sexy, Rich, Soft, Slow
Commercial, Inviting, Comedy, Pathe
Pathe, RP ('Received Pronunciation')
Commercial, Poetic, Rythmic, Soft, Delicate, Thoughful
Commercial, High, Happy, Friendly, Conversational
Commercial, Cool, Edgy, Upbeat, Confident, Powerful
RP ('Received Pronunciation')
Commercial, Cool, Authoritative, Confident
Commercial, Mumsy, Warm, Conversational, Smooth, Natural
RP ('Received Pronunciation'), Straight
Promo, Bright, Upbeat, Excited
RP ('Received Pronunciation')
Promo, Dramatic, Serious, Deep, Heartfelt
RP ('Received Pronunciation')
Promo, Dark, Epic, Horror, Cool
RP ('Received Pronunciation')
Commercial, Warm, Relaxed, Reassuring, Smooth
RP ('Received Pronunciation'), Straight
Commercial, Husky, Deep, Smooth, Warm
RP ('Received Pronunciation'), Straight
Commercial, Sexy, Dry, Sultry, Comedy, Character
Character, Promo, Posh, Comedy, RP, Fast, Conversational
RP ('Received Pronunciation'), Straight
Character, Comedy, Conversational, Dry
Character, Posh, Comedy, Squeaky, Irritating, Simple
RP ('Received Pronunciation')
Character, Comedy, Creepy, Conversational, Dry, Unhinged
Character, Commercial, Calm, Dry, Comedy
Character, Confident, Conversational, Comedy
Character, Silly, Wacky, Comedy, Hoarse, Gruff, Raspy
Commercial, Character, Dry, Comedy, Smooth
Commercial, Comedy, Upbeat, Silly, Brash, Character

Commercials

Acting

Documentary