The link has been emailed to people on your list.
You can close this window by clicking "ok" below. From there, you can continue to view this artist, or leave the page.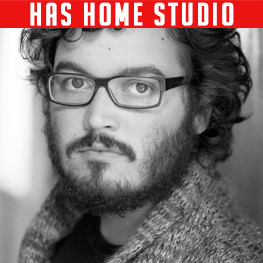 Deep, Guttural and Punchy with Great Characters. 30-45
About Pedro
Soprano singing Tenor anyone? Pedro is an actor/singer voice wizard. Well he's not really a wizard but he sounds fantastic and has great range.
Pedro's Credits
Blue Iguana
The Red Tent
AD The Bible Continues
Evolutionary
Your filters will appear in here. To remove a filter, click the 'x'
Showreel, Commercial, Deep, Husky, Conversational, Authoritative
Trailer Voice/Voice of God
Promo, Epic, Voice of God
Various, Dynamic, Energetic, Mysterious, Millennial
Character, Soldier, Pirate, Transformer, Mouse, Musician
American, Deep South, French, Jamaican, Northern, Russian, Spanish
Confident, Cool, Movie Trailer
Showreel, Commercial, Deep, Rich, Cool, Gravitas, Conversational
Commercial, Deep, Rich, RP, Cool, Dramatic
RP ('Received Pronunciation')
Promo, Deep, Bold, Powerful
Commercial, Smooth, Calm, Conversational
Commercial, Regular Guy, Conversational, Natural, Honest
Commercial, Cool, Moody, Conversational
Commercial, Upbeat, Energetic, Cool, Bloke
Promo, Inspirational, Deep, Rich, Dramatic
Promo, Serious, Dark, Drama
Commerical, Tough, Strong, Serious
Commerical, Smooth, Deep Sexy
Commercial, Romantic, Heartfelt, Smooth
Commercial, Deep, Rich, Booming, Powerful, Natural, Conversational
Promo, Funny, Conversational, Dramatic
Commercial, Deep, Gruff, Husky, Bloke
Promo, Energetic, Strong, Fun
Promo, Contemporary, Energetic,Strong
Commercial, Cool, Confident, Bold
Promo, Upbeat, Enthusiastic, Cool, Deep
Commercial, Deep, Friendly, Powerful
Commercial, Cool, Authoritative, Dramatic, Deep
RP ('Received Pronunciation')
Commercial, Epic, Grand, Deep, Gravelly, Conversational, Cool
Commercial, Conversational, Friendly, Emotional, Powerful, Deep
Commercial, Deep, Proud, Rich, Gravitas
Promo, Deep, Dramatic, Powerful, Authoritative
Commercial, Slow, Conversational, Rich, Honest, Trustworthy

Commercials