The link has been emailed to people on your list.
You can close this window by clicking "ok" below. From there, you can continue to view this artist, or leave the page.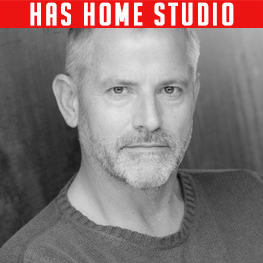 Smooth, Cool, Friendly Mid Range. English and Welsh. 30+
About Matthew
Matthew was born in Cardiff and speaks Fluent French. He has appeared in more than 400 radio plays, has won a Radio Times award and narrated all 7 series of 'Built for the Kill'.
Matthew's Credits
The Archers
Hollyoaks
EastEnders
Jacob's Ladder
Down to Earth
The Bill
Mass Effect: Andromeda (Video Game)
Dark Souls II (Video Game)
Anthem (Video Game)
Your filters will appear in here. To remove a filter, click the 'x'
Commercial, Smooth, Warm, Informative
Showreel, Character, Acting, Showreel
Friendly, Conversational, Casual
English, RP ('Received Pronunciation'), Straight
Commercial, Rich, Smooth, Conversational
Documentary, Flat, Informative, Assured
Commercial, Smooth, Soft, Deep
Conversational, Friendly, Corporate
English, RP ('Received Pronunciation'), Straight
Commercial, Contemporary, Edgy
Promo, Gravitas, Drama, Deep
Commercial, Natural, Conversation, Warm
Character, Assured, Informative, Warm, Chef, Gordon Ramsey, Jamie Oliver
Character, Upbeat, Bright, Energy, Gym, Instructor
Commercial, Inspiring, Mid Range, Enticing
Poem, Building, Dramatic, Rythmic, Poetic
Poem, Slow, Poetic, Gravitas, Conversational, Heartfelt
Commercial, Comedy, Stressed, Irate, Aggressive
Audio Play, Acting, News Reporter
Commercial, Smooth, Relaxed, Cool
Commercial, Speaking Welsh, Mid Range
Commercial, Speaking Welsh, Friendly
Commercial, Casual, Conversational, Friendly
Liverpool, North West, Scouse
Commercial, Fast Read, Upbeat, Warm, Excited
Commercial, End Line, Fast Read, Tag
Commercial, West Country, Warm, Homely, Honest
Commercial, Dramatic, Passionate, Comedy
Commercial, Smooth, Friendly, Hushed, Bright
Commercial, Upbeat, Cool, Informative
Commercial, Midrange, Fast Read, Warm, Endline
Commercial, Fast Read, Informative, Legal, Endline
Commercial, Friendly, Informative, Resonance, Rich
Commercial, Cheesy, Newspaper, Hard Sell, Enthusiastic
Commercial, Friendly, Upbeat, Informative
Commercial, Strong, Epic, Uplifting, Inviting
Commercial, Smooth, Friendly, Warm
Commercial, Upbeat, Kids, Happy
Commercial, Friendly, Informative, Reassuring, Assured
Commercial, Soothing, Genuine, Honest, Smooth
Commercial, Fast Read, Informative, Legal, Endline
Commercial, Smooth, Friendly, Light, Nice
Commercial, Dramatic, Heavy, Serious
Commercial, Warm, Resonance, Shouting, Endline
Commercial, Upbeat, Light, Friendly
Commercial, Dramatic, Gravelly, Authoritative
Commercial, Smooth, Sexy, Sensual
Commercial, Natural, Authoritative, Warm, Trustworthy
Commercial, Smooth, Informative, Rich
Commercial, Informative, Relaxed, Guttural, Rich
Promo, Enticing, Intriguing, Smooth
Game, Scared, Gentle, Ghost, Instructional, Dreamy
Corporate, Smooth, Downbeat, Relaxed, Informative
Documentary, Smooth, Relaxed, Friendly
Documentary, Natural, Reality
Documentary, Serious, Concerned
Documentary, Smooth, Nature
Documentary, Fast Moving, Dramatic, Authoritative
Promo, Cool, Young, Music
Promo, Cheesy, Upbeat, Energetic, Fun
Radio Play, RP, Well Spoken, Acting, Pompous
RP ('Received Pronunciation')
Joanna Lumleys Greek Odyssey
Promo, Slow, Charming, Rich, Smooth
Radio Play, Lawyer, RP, Acting
RP ('Received Pronunciation')
Radio Play, Journalist, Acting
The Expedition of Humphrey Dinker
Radio Play, Servant, Acting
Commercial, Ident, Smooth, Resonance, Endline
Commercial, Light, Smooth, Friendly
Promo, Cool, Intense, Smooth
Commercial, Excited, Friendly, Upbeat
Promo, Warm, Genuine, Rich
Promo, Dramatic, Rich, Smooth
Commercial, Smooth, Midrange, Friendly, Relaxed
Commercial, Genuine, Relaxed, Informative

Commercials

Promos

Documentary

Acting

Games