The link has been emailed to people on your list.
You can close this window by clicking "ok" below. From there, you can continue to view this artist, or leave the page.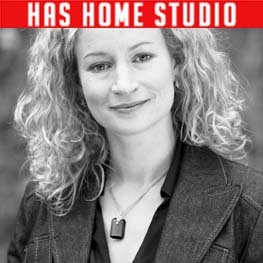 From Light and Friendly to Smooth and Relaxed. Strong Commercial Edge. 20-40
About Lorraine
Best known for roles in 'Human Traffic' and 'Monarch of the Glen'. She voiced 'Tommy Turnball' in animation 'Robotboy' and you may also recognise Lorraine as 'Yolanda Carrick' in the TV series 'Rough Diamond'.
Lorraine's Credits
Casualty
Striking Out
Human Traffic
Monarch of the Glen
Waking the Dead
My Kingdom
Four Fathers
Your filters will appear in here. To remove a filter, click the 'x'
Showreel, Young, 20s, 30s
Accent & Character Showreel
American, English, Liverpool, Scottish
Character, Kid, Husky, Boy
Character, Kid, Natural, Conversational
Character, Teenager, Character, Kids, Natural
Commercial, Smooth, Warm, Inviting
Commercial, Smooth, Reassuring, Soft
Commercial, Informative, Flat, Computer
Promo, Warm, Smooth, Friendly
Commercial, Tagline, Friendly, Informative
Commercial, Announcer, Friendly, Airport
Commercial, Friendly, Warm, Smooth
Head and Shoulders Gorgeous
Commercial, Friendly, Upbeat, Chatty, Girly
Commercial, Bright, Light, Fresh, Upbeat
Commercial, Mellow, Husky, Soft
Commercial, Bright, Friendly, Reassuring
Commercial, Relaxed, Natural, Cool
Commercial, Smooth Relaxing, Commercial
Commercial, Straight, Informative
Commercial, Bright, Friendly, Informative
Wistful, Storytelling, Poetic
Friendly, Conversational, Warm, Reassuring
Commercial, Authorative, Strong, Confident
Upbeat, Hard Sell, Excited
Impression, Character, Comedy
RP ('Received Pronunciation')
Commercial, Friendly, Reassuring, Soothing
Commercial, Soft, Smooth, Warm
Commercial, Conversational, Honest, Matter of Fact
Poem, Conversational, Slow, Natural, Soothing, Poetic
Commercial, Soft, Smooth, Warm
Commercial, Upbeat, Enthusiastic, Happy, Welcoming
Commercial, Rich, Inspiring, Call to Arms, Passionate
Commercial, Conversational, Happy
Commercial, Caring, Genuine, Concern, Warm
Commercial, Movie, Film, Trailer, Friendly, Soft
Character, Teenager, Moaning, Listing, Fast
Character, Breathy, Harsh
Character, Breathy, Seductive, Sexy
Character, Cockney, Hard, Rough
Character, Husky, Enthusiastic, Sarcastic, Playful
Character, Young, Teenager
Character, Posh, Teenager
Character, Shouting, High Pitched, Angry, Mum
Commercial, Straight, Conversational
Promo, Upbeat, Friendly, Bright
Promo, Warm, Smooth, Inviting
Commercial, Natural, Informative
Commercial, Chatty Upbeat
Commercial, Smooth, Relaxing
Commercial, Manic, Erratic

Commercials

Acting

Promos