The link has been emailed to people on your list.
You can close this window by clicking "ok" below. From there, you can continue to view this artist, or leave the page.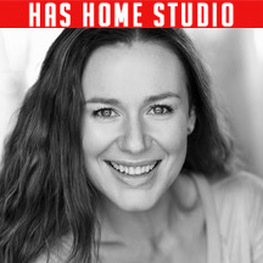 Versatile, Sophisticated, with comedy timing
About Katie
Katie is a natural storyteller with a pool of characters up her sleeve from friendly girl next door to comical sidekick. A loving wife, mother or powerful boss with poetic, deadpan or sarcastic reads. Credits include Toyota, Clarins, Carte Noire, Sky Atlantic, an the FT.
Katie 's Credits
Katie has written, performed and produced two comedy and solo theatre shows.
Also received a string of 4 star and a 5 star reviews at Edinburgh Fringe in 2018.
Katie is currently working with Rankin, the iconic photographer, publisher and film director. She hosts the live show that they have been touring around Cannes Lions, Arts Festivals and now have a run at Groucho, London.
Currently creating her third show, a comedy, theatre, cabaret and spoken word piece: EDUCATION WE DIDN'T HAVE.
Award Winning speaker about solo shows 2023.
Your filters will appear in here. To remove a filter, click the 'x'
Promo, Commercial, Upbeat
RP ('Received Pronunciation')
Comedy, Confident, Character, Versatile
American, RP ('Received Pronunciation')
Documentary, Cool, Smooth
RP ('Received Pronunciation')
Cool, Contemporary, Dramatic,
RP ('Received Pronunciation')
Animations, versatile, confident
RP ('Received Pronunciation')
warm, smooth, aspirational
RP ('Received Pronunciation')
Friendly, Warm, Reassuring
RP ('Received Pronunciation')
Warm, Bright, Trustworthy
RP ('Received Pronunciation')
Conversational, Fun, Humorous
RP ('Received Pronunciation')