The link has been emailed to people on your list.
You can close this window by clicking "ok" below. From there, you can continue to view this artist, or leave the page.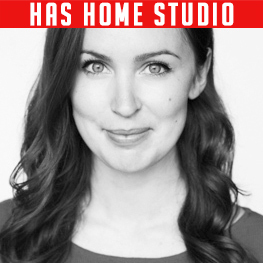 Extremely versatile with a medley of accents. 20+ Sketch show comedienne.
About Katia
Katia is half Norwegian, half American with a natural Scottish accent! And that's why she has an ear for any accent. Her English RP is ideal for commercials.
Katia's Credits
Black Earth Rising
Zapped
Ania
140 Karakters - Edinburgh Festival Fringe
Love Bite - Film
Your filters will appear in here. To remove a filter, click the 'x'
RP ('Received Pronunciation'), Straight
Accent, Reel, Versatile, Various
Edinburgh, Irish, London, Northern, RP ('Received Pronunciation'), Scottish, Straight, Various
Showreel, Commercial, Documentary
International Accents Showreel
Showreel, International, Accents
Radio Characters Showreel
Characters, Showreel, Radio
Showreel, Characters, Comedy, Every Woman
Showreel, Commercial, Documentary
Commercial, Upbeat, Light, Energy
Commercial, Cool, Smooth, Flat
Commercial, Smooth, Soft, Emotion
Commercial, Friendly, Bright, Light
Commercial, Natural, Light, Friendly
Commercial, Cool, Contemporary, Smooth
Commercial, Fun, Bright, Friendly
Commercial, Bright, Light, Upbeat
Commercial, Natural, Cool, Assured
All Creatures Great and Stuffed
Documentary, Informative, Comedy, Satire
Impression, Character, Girls
Bitches and Beauty Queens
Documentary, Smooth, Cool, Informative
Promo, Energy, Young, Upbeat
Promo, Warm, Smooth, Assured
Promo, Warm, Smooth, Assured
Promo, Energy, Upbeat, Punchy
Promo, Flat, Informative, Dark
Promo, Flat, Cool, Laidback
Commercial, Deep, Smooth, Sexy
Commercial, Soft, Warm, Friendly
Commercial, Warm, Slow, Thoughtful
Commercial, Bright, Friendly, Cheerful
Commercial, Confident, Everywoman, Conversational
Documentary, Authoritative, Serious, Engaging
Documentary, Dramatic, Enticing, Deep
Commercial, Natural, Acting
Commercial, Energy, Upbeat, Bright
Commercial, Warm, Soft, Smooth
Commercial, Confident, Assured, Bold
Commercial, Cool, Attitude

Impressions

Animations