The link has been emailed to people on your list.
You can close this window by clicking "ok" below. From there, you can continue to view this artist, or leave the page.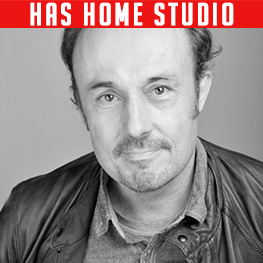 Incredibly Versatile, Ranging from Straight to Character. Everything You Ever Wanted
About Jonathan
Recent: Nat Geo, Fox, Discovery, Quest, ITV, Film4, More4, C4, C5, Scyfy, ID. Doco: Airport Alert, Beat the Sun, T-Rex Ultimate Survivor. Ads: Aldi, Full Tilt Poker. Has done 40+ Games. Corporate: Recruitment Juice.
Jonathan's Credits
Ahaarrrr (Award Winning Short)
Norsemen
World of Warcraft: Battle of Azeroth (Game)
Toy Story That Time Forgot (Pixar Short)
The Harry Potter Game Series (Multiple Voices)
Assassin's Creed (Game)
Noddy, Toyland Detective (Animation)
Mr Bean (Animation)
Warren United (Animation)
Your filters will appear in here. To remove a filter, click the 'x'
RP ('Received Pronunciation'), Straight
UK Game and Character Showreel
Character, Game, RP, Posh, Scottish, Irish, Northern, Cockney, West Country, Various
Cockney, Irish, Northern, RP ('Received Pronunciation'), Scottish, Various, Well Spoken, West Country
International Game and Character Showreel
Showreel, Character, Game, Versatile
American, Australian, French, German, Greek, Russian, South African
Corporate and Medical Showreel
Clear, Informative, Matter Of Fact, Articulate
Liverpool, RP ('Received Pronunciation'), Scottish, Straight
Singing, Comedy, Commercial
Inquisitive, Smooth, Deep
Promo, London, Confident, Assured
Commercial, Character, Warm, Everyman
Character, Funny, Singing
RP ('Received Pronunciation')
Character, Singing, Funny
RP ('Received Pronunciation')
Character, Singing, Animation
RP ('Received Pronunciation')
Commercial, Poem, Warm, Friendly
Commercial, Upbeat, Bright, Informative, Friendly
Commercial, Friendly, Light, Reassuring
Promo, Movie, Trailer, Dramatic, Powerful, Deep, Resonance
Documentary, Intrigue, Dramatic, Tense
Comedy, Acting, Character
London, RP ('Received Pronunciation'), Straight
Acting, Regular Guy, Everyday Man
Toy Story That Time Forgot
RP ('Received Pronunciation')
Commercial, Warm, Friendly, Light
Commercial, Bright, Rich, Dynamic
RP ('Received Pronunciation')
Documentary, Warm, Natural, Light
RP ('Received Pronunciation')
Raiders Of The Lost Art Vermeer
Documentary, Informative, Rich, Deep
RP ('Received Pronunciation')
Character and Accent Showreel Lovely Sausage
Character and Accent Showreel
Promo, Tense, Bold, Upbeat
RP ('Received Pronunciation')
Promo, Drama, Authoritative, Bold
ITV Midwinter of the Spirit
Promo, Dramatic, Authoritative, Dark
Promo, Gravitas, Tense, Drama
Dance Like My Dad - Rudy Vs
Documentary, Dramatic, Serious, Intense, Cool, Authoritative
Documentary, Soft, Bright, Conversational
Promo, Serious, Dramatic, Intense, Energetic
Character, Deep, Soldier, Scientist
Commercial, Big, RP, Bold
RP ('Received Pronunciation')
Commercial, RP, Rich, Bold, Distinctive
RP ('Received Pronunciation')
Legal, Very Very Fast, Speed Read
Commercial, Singing, Bright, Uplifting
RP ('Received Pronunciation')
Character, Straight, Instructional
5 Star Funny Guy Movie Season
Promo, Guttural, Gravitas, Cool
Commercial, Character, Mechanic, Chatty, Comedy
Promo, Husky, Gravelly, Attitude
Promo, Husky, Gravelly, Smooth, Enticing
Promo, Cool, Guttural, Dramatic
Five Europa League Man Utd
Promo, Commentator, Upbeat, Enthusiastic, Energetic
Promo, Guttural, Informative, Genuine, Authoritative
Commercial, Singing, Synthesized, Smooth
Commercial, Loud, Brash, Harsh, Warm, Enticing, Soothing
Commercial, Reassuring, Resonance, Rich, Warm
Commercial, Excited, Upbeat, Builds, Bright
Promo, Rich, Guttural, Friendly, Natural
Promo, Dramatic, Gravitas, Serious, Deep
Commercial, Suave, Smooth, Classy
RP ('Received Pronunciation')
Commercial, Hyper, Excited
Animation, Friendly, Warm
Daily Mail Upstairs Downstairs
Commercial, Warm, Smooth, Nostalgic
Chiswick, London, Straight
Commercial, Smooth, Warm, Relaxing
Commercial, Character, Gameshow Host, Cheesy
Promo, Dramatic, Intense, Epic, Husky
Commercial, Raspy, Guttural, Gravelly, Pirate
Documentary, Bright, Engaging, Enthusiastic
Documentary, Gravelly, Resonance, Gravitas
RP ('Received Pronunciation'), Straight
Promo, Smooth, Relaxed, Resonance
Character, Gravelly, Comedy, Raspy, Pirate
Michael Jackson's Secret Hollywood
Promo, Serious, Resonance, Engaging
Promo, Bright, Easy Going, Friendly
Promo, Intense, Dark, Edgy, Gravelly, Gravitas, Deep
Promo, Warm, Bright, Upbeat, Fast Read
Documentary, Deep, Resonance, Engaging, Intense
Character, Moaning, Old Man, Strained
Character, Comedy, Doctor, Surgeon, Conversational, Acting
RP ('Received Pronunciation'), Straight
Conversational, Character, Worried, Weasel
RP ('Received Pronunciation'), Straight
Game, Character, Wizard, Informative
Character, Comedy, Conversational
Audio Book, Narration, Slow, Warm, Friendly

Various

Promos

Singing

Commercials

Documentary

Animations

Acting

Comedy

Games