The link has been emailed to people on your list.
You can close this window by clicking "ok" below. From there, you can continue to view this artist, or leave the page.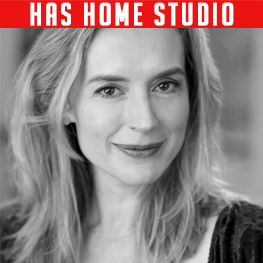 Bright, Sexy & Contemporary with an Authoritative Edge
About Jessica
Jess is also a very good singer. Jess Whittaker has been a Voice Over Artist at Another Tongue Voice Agency for 14 years.
Jessica's Credits
Thames 107.8FM - DJ
BBC3 Sreen Grabs - Presenter
Dream Ticket - Presenter
Sky Television Movies - Presenter
VH1 - Presenter
Your filters will appear in here. To remove a filter, click the 'x'
Showreel, Upbeat, Commercial
RP ('Received Pronunciation'), Straight
Confident, Friendly, Energetic
Singing, Various, Versatile, Pop, Jazz, Jingle
Audio Book, Narrative, Character, Conversational, Warm, Engaging
Character, Warm, Conversational, Narration, Storytelling
Character, Conversational, Energetic, Warm, Kid
American, Irish, Northern, RP ('Received Pronunciation'), West Country
Promo, Serious, Robot, Acting, Dramatic, Intense, Authoritative
LOreal and The Princes Trust
Commercial, Smooth, Natural, Light
RP ('Received Pronunciation')
Secret Life of 4,5 & 6 Year Olds
Promo, Relaxed, Friendly, Warm
RP ('Received Pronunciation'), Straight
Commercial, Robot, Flat, Informative
RP ('Received Pronunciation')
Promo, Smooth, Sexy, Soft
RP ('Received Pronunciation')
Commercial, Sincere, Smooth, Natural
RP ('Received Pronunciation'), Straight
Commercial, Warm, Conversational, Natural, Friendly, Cheerful
Commercial, Poetic, Straight, Narrative, Empowering
Commercial, Honest, Warm, Inviting
RP ('Received Pronunciation')
Commercial, Serious, Dark, Dramatic
Poem, Natural, Soft, Calm
Commercial, Soft, Smooth, Deep, Sexy, Authoritative
RP ('Received Pronunciation')
Audio Book, Conversational, Warm, Engaging
RP ('Received Pronunciation')
It Will Come Back (Singing)
Singing, Blues, County, Gentle
Corporate, Informative, Natural, Smooth
RP ('Received Pronunciation')
Corporate, Informative, Conversational, Smooth
RP ('Received Pronunciation')
Corporate, Informative, Sincere, Bold
RP ('Received Pronunciation')
Promo, Sexy, Assured, Deep, Sexy, Authoritative
RP ('Received Pronunciation')
Commercial, Conversational, Bright, Light, Fresh
Commercial, Soft, Reassuring, Warm, Conversational
Poem, Sombre, Conversational, Thoughtful, Emotional
Commercial, Upbeat, Friendly, Young, Soft, Bright
Commercial, Character, Doctor, Comedy, Soft, Chatty
Poem, Poetic, Rythmic, Soft, Flirty
RP ('Received Pronunciation')
Commercial, Informative, Upbeat, Energetic
Corporate, Confident, Assured, Clear
Interview, Natural, Chatty, Relaxed
Commercial, Cool, Laid Back, Attitude
Audio Book, Narrative, Character, Bright, Natural, Chatty
Commercial, Straight, Cosy, Poetic, Conversational, Delicate
Singing, Country, Blues, Gentle
Audio Book, Engaging, Slow, Dramatic, Husky, Character
Corporate, Informative, Light, Clear
Character, Authoritative, Assertive, Strong, Informative
RP ('Received Pronunciation')
Documentary, Cheerful, Bright, Genuine
RP ('Received Pronunciation')
DJ, Conversational, Chatty, Cheerful
Commercial, Informative, Punchy, Upbeat
DJ, Tagline, Relaxed, Fun
Character, Soft, Thoughtful, Serious
Promo, Cheeky, Charming, Assured, Perky
Commercial, Warm, Friendly, Soft
Commercial, Upbeat, Enthusiastic
Commercial, Gentle, Relaxed
Commercial, Cheesy, Bright, Natural, Friendly
Commercial, Gentle, Smooth
Commercial, Cool, Soft, Relaxed
Commercial, Sexy, Smooth, Sultry
Commercial, Soft, Enticing
Commercial, Upbeat, Energetic
Corporate, Informative, Natural
Commercial, Friendly, Welcoming
Commercial, Upbeat, Energetic
Commercial, Intimate, Sexy, Deep
Commercial, Smooth, Soothing, Soft
RP ('Received Pronunciation'), Straight
Commercial, Friendly, Warm, Natural
Commercial, Upbeat, Informative
Commercial, Upbeat, Punchy
Feeling Fine, Look Divine
Commercial, Friendly, Smiley, Upbeat
Documentary, Smooth, Scientific
Documentary, Warm, Serious
Documentary, Natural, Engaging
Documentary, Smooth, Relaxing
Documentary, Smooth, Informative
Promo, Conversational, Friendly
Promo, Informative, Engaging
Promo, Warm, Smooth, Friendly
RP ('Received Pronunciation')
Promo, Upbeat, Energetic, Friendly
Promo, Deep, Smooth, Sexy, Authoritative
Promo, Smooth, Intelligent, Deep, Sexy, Authoritative
Promo, Deep, Smooth, Confident
Promo, Bright, Enthusiastic, Dramatic
Audio Book, Narration, Engaging, Warm, Smooth, Soft
RP ('Received Pronunciation')
Audio Book, Narration, Smooth, Calm, Warm
RP ('Received Pronunciation')
Audio Book, Narration, Warm, Smooth
RP ('Received Pronunciation')
West Country (male) Audiobook
Audiobook, Accents, Acting
Acting, Yorkshire, Smooth
English, RP ('Received Pronunciation')
National Geographic Radio Promo
Promo, Conversational, Cool, Radio
RP ('Received Pronunciation')

Promos

Commercials

Corporate

Presenting

Documentary