The link has been emailed to people on your list.
You can close this window by clicking "ok" below. From there, you can continue to view this artist, or leave the page.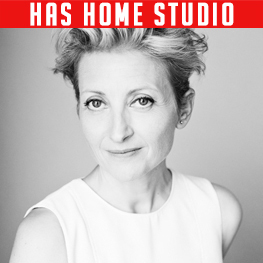 Confident Warm & Natural. Smooth Rich Tone with a Husky Edge. 25-40
About Hermione
Hermione has recently performed at the National Theatre in '3 Winters' and Polly Stenham's 'Hotel'. Hermione also lives close to the West End, so is ideal for last minute recordings.
Hermione's Credits
Holby City
The Affair of the Necklace
New Tricks
Foyle's War
Rev
The IT Crowd
Hustle
Your filters will appear in here. To remove a filter, click the 'x'
American, Northern, Straight
Commercial, Warm, Conversational, Heartfelt, Light
Commercial, Smooth, Rich, Slow, Sultry
Commercial, Conversational, Light, Warm
Documentary, Warm, Inspirational, Heartfelt
Promo, Warm, Conversational, Relaxed
BBC One Rob Rinder's Holocaust
Promo, Heartfelt, Warm, Rich
Dove Wash To Care Covid19
Commercial, Warm, Authoritative, Calm
Commercial, Strong, Authoritative, Conversational
English, RP ('Received Pronunciation'), Straight
BBC Real Happiness Project
Corporate, Warm, Inviting, Smooth
Promo, Mysterious, Tense, Smooth
Commercial, Warm, Conversational, Natural
Commercial, Warm, Happy, Friendly
RP ('Received Pronunciation')
RP ('Received Pronunciation')
Smooth, Relaxed, Relaxing
St Davids The Impressionist
Commercial, Smooth, Relaxed, Cool
Commercial, Reassuring, Smooth, Informative
Commercial, Authoritative, Informative, Stern
Commercial, Bright, Upbeat, Friendly, Honest
Commercial, Warm, Familiar, Inviting
Commercial, Smooth, Soft, Informative, Soft
Commercial, Friendly, Upbeat, Light
Devon, Somerset, West Country
Commercial, Deep, Serious, Engaging
Commercial, Informative, Smooth, Slow
Documentary, Smooth, Warm
Commercial, Smooth, Informative
Commercial, Smooth, Sensual
Commercial, Smooth, Relaxing, Warm
Commercial, Midrange, Friendly
Commercial, Serious, Engaging, Caring
Commercial, Smooth, Warm, Friendly
Commercial, Midrange, Natural, Upbeat
Game, Hooker, Passer By, American, Scared, Scream
Corporate, Smooth, Informative
Game, Goblin, Witch, Princess, Old Lady
RP ('Received Pronunciation'), Straight
Game, Gameshow Assistant, Informative, Friendly
Game, Panic, Worried, Hushed
RP ('Received Pronunciation')
Game, Authoritative, Stern
RP ('Received Pronunciation')
Game, Excited, Conversational, Enthusiastic, Friend
Game, Friendly, Robot, Eerie
RP ('Received Pronunciation')
Game, Soldier, Authoritative, Anxious
Documentary, Informative, Bright, Smooth
Promo, Smooth, Authoritative
Corporate, Informative, Smooth
Promo, Smooth, Relaxing, Engaging
Zimbabwe's Forgotten Children
Promo, Serious, Engaging, Smooth
Dolphins Beauty Before Brains
Documentary, Etheral, Dramatic, Smooth
Corporate, Smooth, Informative, Clear
Commercial, Informative, Upbeat, Smooth
Commercial, Smooth, Resonance, Rich
Promo, Smooth, Sexy, Warm
Commercial, Fast, Informative, Friendly
Commercial, Warm, Reassuring, Rich

Promos

Documentary

Acting

Commercials

Corporate