The link has been emailed to people on your list.
You can close this window by clicking "ok" below. From there, you can continue to view this artist, or leave the page.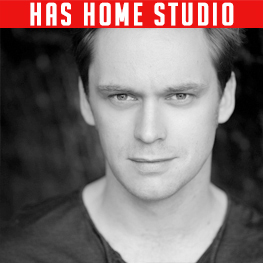 Trustworthy, assured and natural with an engaging commercial edge. 25 - 35.
About Finlay
Finlay was brought up in the North West and studied at Cambridge University. As well as a writer and stage actor, he's a familiar face on British TV screens and an experienced audiobook reader.
Finlay's Credits
Dr Who - Blink
How Not To Live Your Life
Body Farm
Doc Martin
Life Begins
Your filters will appear in here. To remove a filter, click the 'x'
Commercial, Showreel, Various
Character, Comedy, Bright, Conversational
Department for International Trade
Commercial, Authoritative, Gravel, Warmth
Game, Showreel, Character, Acting
Legal, Fast, Speed, Comedy
Commercial, Authoritative, Technical, Friendly, Mid Range
Corporate, Friendly, Warm, Natural, Presenting
RP ('Received Pronunciation')
Comedy, Dry, Irony, Rant, Observational Humour, Jack Dee
RP ('Received Pronunciation'), Straight
Commercial, Natural, Flat, Dry
Commercial, Hard Sell, Smooth, Bold, Brash, Big
Commercial, Light, Bright, Friendly, Reassuring
Commercial, Powerful, Confident, Authoritative
Commercial, RP, Natural, Comedy, Conversational, Character
RP ('Received Pronunciation')
Commercial, Cool, Smooth, Rich, Gravitas
Harper Adams University Manifesto
Conversational, Uplifting, Friendly, Inspirational
English, RP ('Received Pronunciation'), Straight
Commercial, Soft, Smooth, Resonant, Refreshing
Commercial, Serious, Smooth, Cool, Resonant
Promo, Soft, Midrange, Friendly, Soothing, Classical Music
Character, Voices, Silly, Poem, Comedy
Commercial, Light, Bright, Friendly, Matter of Fact
Commercial, Cool, Calm, Flat, Serious
Poem, Soft, Smooth, Resonant
Commercial, Youthful, Energy, Brash, Cool, Upbeat
Commercial, Rich, Smooth, Friendly, Genuine
Commercial, Bright, Fresh, Hard Sell
Commercial, Serious, Informative, Authoritative, Flat, Dramatic
Commercial, Bright, Upbeat, Sell, Regular Guy, Direct, Surf
Commercial, Bloke, Bright, Fresh, Excited
Documentary, Informative, Reassured, Calm
Documentary, Well Spoken, Drama, Crisp
Hunters of the South Seas
Documentary, Relaxed, Soft, Warm
Documentary, Serious, Engaging, Empathetic
Commercial, Bright, Informative, Perky, Sincere
RP ('Received Pronunciation')
Promo, Assured, Authoritative
Commercial, Informative, Warm
Commercial, Informative, Energetic
Commercial, Conversational, Natural, Reassuring
Commercial, Bright, Cheerful, Friendly
RP ('Received Pronunciation')
Commercial, Dramatic, Fun, Conversational
Commercial, Fun, French, Bright
Conversational, Relaxed, Engaging, Quirky, Humour
Audio Book, Serious, Historical, Engaging, Mid Range
Audio Book, Character, Yorkshire, Warm, Smooth
RP ('Received Pronunciation')
Commercial, Natural, Mid Range, Everyman, Relaxed
Commercial, Bright, Funny, Conversational, Quirky
Commercial, Epic, Upbeat, Happy
Acting

Commercials

Presenting

Promos

Documentary