The link has been emailed to people on your list.
You can close this window by clicking "ok" below. From there, you can continue to view this artist, or leave the page.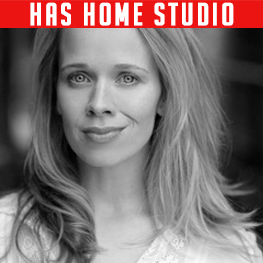 A bright, soft, friendly tone, easy and light, can sound very youthful. She can do wonders with any brief. 5-35
About Ellie
Ellie played Phil Collin's cute daughter in the 1988 film Buster. She also played Lucy in the Radio 4 dramatisation of Narnia and featured in the box office hit 'Les Miserables'.
Ellie's Credits
Down to Earth
The Poetry Disease - Radio 4
Emma - Radio 4
The Dutch Mariner - Radio 4
The Paternity Test - Radio 4
Endeavour
This is Going to Hurt
Your filters will appear in here. To remove a filter, click the 'x'
RP ('Received Pronunciation'), Straight
Upbeat, commercial, young
Comedy Character Showreel
Documentary - Coming to Terms
Documentary, Clear, Informative
Commercial, Bright, Light, Friendly
Commercial, Upbeat, Young, Bright
Commercial, Chatty, Young, Friendly
RP ('Received Pronunciation'), Straight
Commercial, Natural, Clear
Commercial, Smooth, Sexy, Soft
RP ('Received Pronunciation'), Straight
Commercial, Character, Girl, Sassy, Confident, Young
RP ('Received Pronunciation')
Commercial, Conversational, Natural, Informative
RP ('Received Pronunciation'), Straight
Commercial, Upbeat, Excited, Loud
Commercial, Spoilt, Fast, Character
RP ('Received Pronunciation'), Straight
Commercial, Young, Energetic, Lively
Commercial, Kids, Young, Upbeat
Commercial, Charity, Sincere, Clear
Commercial, Chatty, Young, Smooth
RP ('Received Pronunciation'), Straight
Commercial, Clear, Announcer, Sarcastic
RP ('Received Pronunciation'), Straight
Commercial, Young, Fun, Conversational
Commercial, Character, Girly, Crying
Commercial, Clear, Straight
Commercial, Bright, Young, Friendly
Commercial, Young, Bright
Commercial, Teenager, Young, Natural
Isleworth, London, Middlesex
Commercial, Young, Bright, Upbeat
RP ('Received Pronunciation'), Straight
Promo, Clear, Smooth, Soft
Commercial, Honest, Confident, Bright
Commercial, Clear, Bright, Inviting
Commercial, Informative, Assured, Kind
RP ('Received Pronunciation')
Promo, Genuine, Familiar, Perky
Commercial, Young, Bright, Happy

Documentary

Commercials

Promos

Acting