The link has been emailed to people on your list.
You can close this window by clicking "ok" below. From there, you can continue to view this artist, or leave the page.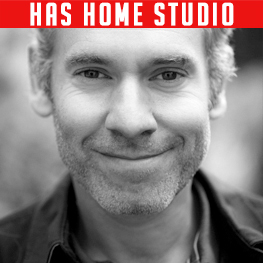 Mid Range, Natural and Friendly. Very Experienced and Seriously Versatile
About Dominic
Dominic is a talented comedian, writer and broadcaster. He has a clear, easy, and warm sound that seems to suit just about everything - simple, conversational reads, serious narration, upbeat and even wacky stuff.
Dominic's Credits
The Inbetweeners Movie
Four Horsemen
Roary the Racing Car (animation)
Claude (animation)
Booking.com - booking dot Frisby!
Your filters will appear in here. To remove a filter, click the 'x'
Promo, Commercial, Upbeat
RP ('Received Pronunciation'), Straight
Documentary, Dramatic, Smooth
RP ('Received Pronunciation')
Sports, Commentator, Showreel
Legal, Fast, Speed, Clear
RP ('Received Pronunciation'), Straight
Cartoons & Computer Games
Showreel, Animation, Game, Versatile
Commercial, Sport, Football, Poetic, Enticing
Promo, Smooth, Flat, Dark
Commercial, Relaxed, Reassuring, Honest
Commercial, Upbeat, Hard Sell, Happy, Energetic
Commercial, Warm, Friendly, Deep
Commercial, Gravelly, Exciting, Resonance, Epic
Showreel, Singing Styles and Ages, Music, Singing, Kids
Audio Book, Showreel, Smooth, Warm, Rich
Commercial, Bright, Upbeat, Enthusiastic, Big, Fresh
Commercial, Emotional, Gravitas, Young
Commercial, Serious, Informative, Mid Range, Authoritative
Promo, Dramatic, Engaging, Midrange, Poetic
Commercial, Kids, Upbeat, Energetic
Audio Book, Smooth, Relaxing, Slow, Poetic
Showreel, Slow, Comedy, Smooth, Reassuring
Liverpool, Northern, Yorkshire
Commercial, Character, Commentator, Excited, Comedy
Britain's Billionaire Immigrants
Documentary, Informative, Dry, Smooth
RP ('Received Pronunciation'), Straight
Promo, Bright, Upbeat, Rhythmic, Excited, Poem
Commercial, Enticing, Bright, Arrogant
RP ('Received Pronunciation')
Billboard Michael Jackson
Commercial, Smooth, Engaging, Bright
RP ('Received Pronunciation')
Commercial, Poetic, Bright, Upbeat, Rythmic
Documentary, Gentle, Familiar, Sincere
Commercial, Smooth, Friendly, Serious, Intense
Audio Book, Narration, Posh, Intriguing, Clear
RP ('Received Pronunciation')
Animation, Mole, Caravan, Conversational
Singing, Rap, Comedy, Pompous, Lively
Posh, RP ('Received Pronunciation')
Commercial, Gravelly, Husky, Guttural
Showreel, Sports, Pundit, Commentator
Comedy, Conversational, Dry, Relaxed, Natural
RP ('Received Pronunciation'), Straight
Commercial, Warm, Friendly, Heartfelt, Trustworthy, Comforting

Comedy

Commercials

Promos

Animations

Acting

Documentary

Presenting