The link has been emailed to people on your list.
You can close this window by clicking "ok" below. From there, you can continue to view this artist, or leave the page.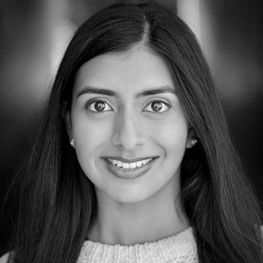 A young, energetic voice - full of smile and versatility.
About Bhavini
Bhavini Sheth is a British-Indian Voiceover Artist, Actor, Dancer & Choreographer based in London. She is a Junior Associate Artist of the National Youth Theatre of Great Britain.
Bhavini has a brilliant work ethic and truly believes that 'one day my time will come'.
Bhavini's Credits
BellBottom
Eternals
Guerrilla
Hotel Babylon
Murdered By My Father
Watch Dogs - Legion
Torchwood: War Chest
Agatha Christie - Hercule Poirot: The London Case
Your filters will appear in here. To remove a filter, click the 'x'
Commercials, Promos, Versatile
RP ('Received Pronunciation')
RP ('Received Pronunciation')
Character Animation Showreel
Aniamtion showreel character voices
American, American Midwest, English, Indian, Various
Narration, versatile, confident
Indian, RP ('Received Pronunciation')
Documentary, Conversational, Natural
RP ('Received Pronunciation')
Promo, Commercial, Upbeat, Indian
Character, Games, Versatile
Promo, Commercial, Upbeat
Promo, Upbeat, Young, Fresh, Bright
RP ('Received Pronunciation')
Promo, Upbeat, Young, Fresh, Bright
RP ('Received Pronunciation')
Commercial, Young, Cool, Natural
RP ('Received Pronunciation')
Promo, Cool, Smooth, Confident
RP ('Received Pronunciation')
Acting

Commercials