The link has been emailed to people on your list.
You can close this window by clicking "ok" below. From there, you can continue to view this artist, or leave the page.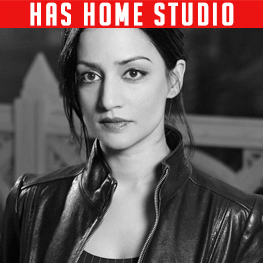 From Smooth and Soft to Vibrant and Upbeat. Accents include Indian, Scottish and London
About Archie
Archie won a Emmy for her part in The Good Wife and she also speaks Hindi. You may recognise Archie as 'Meenah Khan' in 'East is East' or as 'Kalinda Sharma' in the series 'The Good Wife'.
Archie's Credits
Run
I Know This Much Is True
Still Open All Hours
Departure
The Good Wife
A Mighty Heart
The Constant Gardner
Next Of Kin
Life on Mars
Bend It Like Beckham
Your filters will appear in here. To remove a filter, click the 'x'
Indian, London, RP ('Received Pronunciation')
Edgware, London, Straight
Character, Showreel, Conversational
RP ('Received Pronunciation')
Commercial, Natural, Chatty
RP ('Received Pronunciation')
Commercial, Conversational, Girly
Commercial, Smooth, Sensual
RP ('Received Pronunciation')
Commercial, Distressed, Concerned
Commercial, Young, Natural
Commercial, Conversational, Upbeat
Commercial, Chatty, Friendly
Commercial, Newsreader, Friendly
RP ('Received Pronunciation')
Commercial, Young, Informative
RP ('Received Pronunciation')
Commercial, Straight, Upbeat
Commercial, Friendly, Warm

Animations

Acting

Commercials