The link has been emailed to people on your list.
You can close this window by clicking "ok" below. From there, you can continue to view this artist, or leave the page.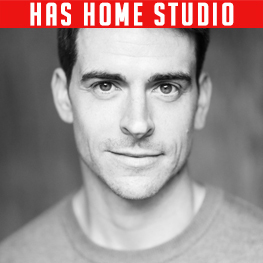 Cool Young Vibe to Spice up your Script. Versatile with Fantastic Accents and Characters. 20+
About Andrew
You may recognise Andrew from the Short Films "Deformation" or "The Monster," and the Tall Stories Theatre Company, in "The Gruffalo's Child."
Andrew's Credits
The Monster (Short 2015)
Deformation (Short 2019)
Room on the Broom (West End)
The Gruffalo's Child (West End)
Emily Brown and the Thing (Sydney Opera House)
Your filters will appear in here. To remove a filter, click the 'x'
London, RP ('Received Pronunciation'), Straight, Various
Vicar, Cockney, Vampire, Dance Instructor, Neighbour, Andy Murray, Gollum
DJ Vicar Cockney Vampire Professor Italian
Documentary, Friendly, Informative, Narration
Documentary, Light, Engaging, Narrative
Commercial, Upbeat, Excited, Young, Fresh
Commercial, Friendly, Chirpy, Bright
Commercial, Cool, Husky, Young
Commercial, Cool, Natural, Conversational
RP ('Received Pronunciation'), Straight
Commercial, Upbeat, Cool, Young
Commercial, Friendly, British, Humour
RP ('Received Pronunciation'), Straight
Commercial, Boyfriend, Character, Regular Guy, Conversational
Commercial, Warm, Conversational, Slow, Relaxed
Commercial, Natural, Conversational, Regular Guy, Young
Commercial, Light, Bright, Young
Character, Vicar, Reverend
Posh, RP ('Received Pronunciation')
London Cockney Chav Wide Boy Eastender
Character, London, Cockney, Chav, Wide, Boy, Eastender
Cockney, Eastender, Estuary, London
Vampire Dracula Eastern European Polish Russian
Character, Vampire, Dracula
Eastern, European, Polish, Russian
Character, Smooth, Sexy, Comedy, Dance Instructor
Character, Mad Professor, Jekyll, Hyde
Character, Comedy, Conversational, Creepy, Weird
Character, Evil, Comedy, Creepy
Character, Cheeky, Regular Guy, Everyman, Comedy, Fast
Character, Comedy, Conversational, Bright, Cheerful
RP ('Received Pronunciation')
Impression, Monotone, Comedy, Dry
Impression, Comedy, Conversational