The link has been emailed to people on your list.
You can close this window by clicking "ok" below. From there, you can continue to view this artist, or leave the page.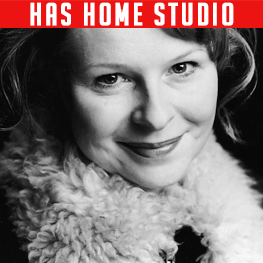 Warm, Trustworthy, Versatile and Highly Commercial with Characters from 6-60.
About Alex
Anything you require from gentle to mental, Alex lives locally and is also a fantastic singer, covering 3 octaves in virtually any style. And you may recognise her as Vera's daughter Ethel, in Mike Leigh's Vera Drake.
Alex's Credits
Coca Cola
Match.com
Kinder
Canon
Vera Drake
Psychoville
Thunderbirds
Your filters will appear in here. To remove a filter, click the 'x'
Animation, Character, Funny
English, London, RP ('Received Pronunciation'), Straight, Various
Legal and Disclaimer Showreel
Legal, Fast Read, Showreel
Game, Showreel, Character, Acting
Commercial, Bright, Light, Friendly
Character, Kids, Playing, Humming, Carefree
Character, Acting, Shouting, Happy, Upbeat, Jolly
Flirt with music on Match
Commercial, Fast, Soft, Reassuring, Welcoming
English Heritage Osbourne Gardens
Commercial, Soft, Fast Read, Upbeat, Happy, Bright
Commercial, Fast, Speed Read, Soft
Animation, Soft, Friendly, Warm
Casual, Funny, Endline, Exciting, Energetic, Acting 30s
Commercial, Bright, Endline, Light, Young, 30's
Commercial, Bright, Conversational, Warm, Smooth, Endline, 40s
Commercial, Confident, Cool, Natural, Smooth, Endline
Commercial, Common, Character, Straight, Endline, Clear
Match - Thank You Immaturity
Commercial, Assured, Endline, Friendly, Warm, Trustworthy
Commercial, Bright, Endline, Light, Natural, 40's
Commercial, Cheerful, Endline, Friendly, Natural, Lighthearted, Mum
Commercial, Confident, Endline, Friendly, Warm, Smooth, Midrange, 40's
Kelloggs Bowl Of Sunshine
Commercial, Endline, Gentle, Relaxing, Soft, Soothing, Warm, 30's
Singing, Jazz, Bright, Showtune
Commercial, Gentle, Soft, Soothing, Homely, Mum, 30's
Corporate, Authoritative, Narrative, Welcoming, Genuine, Engaging, 40's
Commerical, Creepy, Spooky, Young, Child, Kid, Whispered, Little Girl
Commercial, Excited, Lively, Soft, Reassuring, Mum, Mother, 30's
Commercial, Annoying, Character, Comedy, Conversational, Daft, Excited, 40's
The Essential Guide to Beauty
Commercial, Confident, Informative, Friendly, Young, Sexy, Upbeat, 30's
Legal, Bright, Informative, Legal, Quick
Commercial, Sexy, Saucy, Girl Next Door, 30's
Commercial, Airy, Homely, Honest, Relaxing, Soft, Breathy, Dreamy, 40's
Commercial, Annoyed, Conversational, Comedy, Stressed, Worried, 30's
RP ('Received Pronunciation')
Commercial, Cheeky, Flirtatious, Sexy, Saucy, 30's
Character, Mum, Warm, Loving, Smiling, Sincere, Homely, 30's
Legal, Confident, Very Fast, Speed Read, Soft
Commercial, Clear, Light, Friendly, Fragrant, Soft, 30's
Commercial, Genuine, Encouraging, Smooth, Warm, Natural, 30's
Corporate, Technical, Cheerful, Bright, Factual, 40's
Character, Sweet, Kid, Funny, Cute, Innocent, Naive
Commercial, Young Girl, Girly, Gossipy, Conspiratorial, Teen, Warm, Friendly
Commercial, Cheesy, Friendly, Chirpy, Happy, Perky, 40's
Commercial, Endline, Cool, Confident, Flat, Relaxed, Strong, 30's
Commercial, Bright, Kids Tv, Perky, Energetic, Upbeat, Cute, Exciting, 30's
Singing, Ironic, Cheesy, Fun, Whacky, Comedy, Christmas
RP ('Received Pronunciation')
Animation, Common, Character, Girly, Flirty, Receptionist, Comedy, Chatty, 20's
Commercial, Chirpy, Sunny, Happy, Jolly, Upbeat, 30's
Commercial, Downbeat, Informative, 30's
Commercial, Manic, Hard Sell, Loud, Excited, Dramatic, Mental, 30's
Commercial, Afraid, Scared, Nervous, Worried, Conversational, 20's, 30's
Commercial, Child, Young Boy, Kid, Conversational, Young, Soft, Innocent
Commercial, Acting, Real, Passerby, Comedy, Conversational, Natural, 30's
Promo, Bright, Friendly, Cool, Confident, Laidback

Commercials

Promos

Corporate

Animations