The link has been emailed to people on your list.
You can close this window by clicking "ok" below. From there, you can continue to view this artist, or leave the page.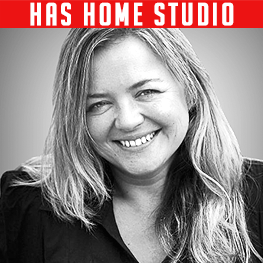 A Versatile & Confident Voice. From Young and Cool to Warm & Sexy. 20s-40s
About Alex
Alex has her own fully equipped sound proofed recording studio and can use Zoom, Google Hangouts, Cleanfeed and Source Connect. High quality sound recording and delivery in any format.
Alex's Credits
Credits Include;
Commercials
Promos
Narratives
Characters

Your filters will appear in here. To remove a filter, click the 'x'
Commercial, Conversational, Natural, Warm, Friendly
Character & Accent Showreel
Showreel, Character, Comedy
Australian, Cockney, Essex, Geordie, Pathe, Welsh
Narrative, Documentary, Soft, Storytelling
Showreel, Radio, Energetic, Smooth, Clear, Friendly
RP ('Received Pronunciation'), Straight
Corsodyl Look After Everything
Commercial, Relaxed, Natural, Conversational
Commercial, Bright, Young, Energetic
Where Are You Going? - BBC World Service
Commercial, Bright, Confident, Energy
Commercial, Bright, Upbeat, Smooth
Corporate, Calm, Warm, Instructional, Clear
Matalan Click and Collect
Commercial, Bright, Friendly, Natural
Commercial, Conversational, Friendly, Helpful, Informative
Conversational, Friendly, Informational
English, RP ('Received Pronunciation'), Straight
Promo, Deep, Sombre, Serious
Commercial, Conversational, Natural, Straight, Light
Promo, Light, Upbeat, Bright
Commercial, Cool, Sexy, Deep
Calm, Reassuring, Friendly, Conversational
Commercial, Smooth, Relaxed, Natural, Reassuring
Commercial, Contemporary, Cool
Promo, Warm, Heartfelt, Smooth
Promo, Dramatic, Intense, Serious, Enticing
Promo, Exciting, Intrigue, Upbeat, Conversational
Promo, Upbeat, Cool, Dramatic
Really Born Mucky Life on The Farm
Promo, Optimistic, Light, Bright, Friendly
Prince WIlliam Our Mental Health
Promo, Inspirational, Optimistic, Warm
Promo, Bright, Light, Friendly, Cheerful
BBC2 Wonders of the Universe
Promo, Smooth, Serious, Epic, Husky
Commercial, Light, Bubbly, Friendly
Downton Abbey Series Launch
Promo, Soft, Sexy, Breathy
Promo, Upbeat, Excited, Engaging
Commercial, Cool, Gritty, Luxurious
Commercial, Resonance, Enthusiastic, Friendly
Promo, Bright, Light, Friendly
Commercial, Upbeat, Light, Happy
Legal, Bright, Friendly, Informative
Commercial, Smooth, Soft, Slow, Funny, Sultry
Promo, Dark, Dramatic, Serious
Commercial, Hard Sell, Intense, Comedy
Promo, Friendly, Punchy, Continuity
Legal, Fast, Informative, Comedy
Virgin Media Dora the Explorer
Singing, Kids, Young, Excited
Documentary, Enthusiastic, Friendly, Warm, Informative
Documentary, Serious, Dramatic, Mid Range
Documentary, Serious, Engaging, Informative
Character, Newsreader, Serious
Posh, RP ('Received Pronunciation')
Promo, Upbeat, Light, Happy, Energy
Promo, Bright, Energetic, Happy
Promo, Powerful, Smooth, Authority
Strictly Come Dancing Movies
Promo, Upbeat, Energetic, Happy
Strictly Come Dancing Halloween
Promo, Upbeat, Bright, Conversational

Corporate

Commercials

Promos

Documentary