The link has been emailed to people on your list.
You can close this window by clicking "ok" below. From there, you can continue to view this artist, or leave the page.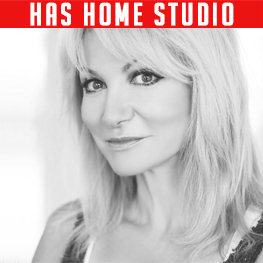 A wonderfully smooth, rich and assured voice. Great with accents too. 40-50.
About Debbie
Debbie has been a voice over artiste for over 25 years spearheading many large campaigns. Debbie is also an experienced actress, appearing in over 400 TV shows, starring as a regular in Coronation Street, Hollyoaks, Eastenders and Emmerdale.
Debbie's Credits
Holby City (TV)
Doctors (TV)
Son of Perdition (Film)
Headlock Security (Film)
Photshoot (Film)
Your filters will appear in here. To remove a filter, click the 'x'
Showreel, Straight, Upbeat, Character
RP ('Received Pronunciation'), Straight
Accent, Commercial, Showreel
Documentary, Informative, Flat, Authoritative
Documentary, Informative, Smooth
Commercial, Character, Narrative
Commercial, Character, Narrative
Commercial, Warm, Soft, Smooth
Commercial, Warm, Friendly, Smooth, Conversational
Commercial, Upbeat, Girly, Soft, Smooth
Commercial, Upbeat, Excited, Hard Sell
Commercial, Genuine, Conversational, Friendly
Commercial, Upbeat, Conversational, Excited, Fast
Commercial, Conversational, Cheerful, Honest
Commercial, Natural, Conversational, Mum
RP ('Received Pronunciation')
Commercial, Warm, Smooth, Reassuring
Commercial, Conversational, Warm, Reassuring
Commercial, Conversational, Authoritative, Serious, Informative
Commercial, Smooth, Soft, Warm
Commercial, Warm, Reassuring, Soft
Commercial, Bright, Warm, Friendly
Commercial, Conversational, Cheerful, Honest
Commercial, Conversational, Authoritative, Informative
Promo, Wistful, Emotive, Warm, Ressuring
Promo, Dramatic, Exciting, Upbeat
Promo, Happy, Bright, Light
Promo, Conversational, Relaxed, Natural
Promo, Upbeat, Energetic, Excited
Promo, Engaging, Conversational, Natural, Friendly
Accent, Soft, Smooth, Relaxing, Conversational
Commercial, Conversational, Cheerful, Honest
Commercial, Authoritative, Reassuring, Rich
Commercial, Upbeat, Bright, Light
Accent, Happy, Bright, Friendly, Conversational
Commercial, Happy, Friendly, Conversational
Commercial, Natural, Conversational, Mum
Commercial, Warm, Smooth, Soft
Commercial, Upbeat, Bright, Excited
Commercial, Upbeat, Bright, Everywoman, Character
Commercial, Smooth, Assured, Confident
Commercial, Upbeat, Bright, Everywoman
Commercials